T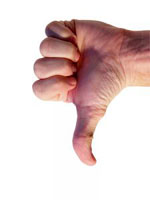 here are also some risks to working for yourself:
You must have a good business to make money. In other words, just because you are starting a business doing something you like to do, doesn't necessarily mean that your business idea is a good one. If not enough people buy what you sell, your business could fail.
You might not have a steady paycheck. Most businesses have ups and downs. Some weeks you might sell enough to have a paycheck, while other weeks you might not. This means you have to learn to budget so you can pay for the things you need in slow times.
…If your business does not work out you do not make any money