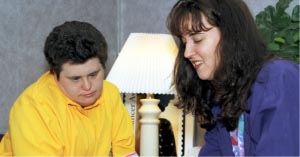 We all need each other's help to live in a community. You might need assistance to learn things, or to budget, or to get around, for example.
Finding a place to live and setting it up isn't easy for anyone. You can get assistance from your family and friends, or you can get help from your school or adult disability services if you qualify. One such service is called "supported living."
Supported living is a service and a way of thinking about how to help people who need help to have a good home. Rather than living in a program designed for people who have disabilities, for instance, supported living instead focuses on each person and how and where he or she wants to live. After figuring this out, the service works with you to find a good home and then deciding what kinds of help you will need. In most states, there are some rules about how supported living works, who can use it, how much can be spent, and who can provide it.
A coach can help you with your budgeting, finding a roommate, and figuring out how to get the things you need. The coach works with you as a partner. He or she is not your boss, and shouldn't tell you what to do. But you also have to do your part and work with and listen to the supported living coach to get the help you need.