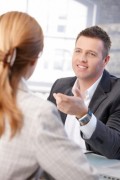 What is self-confidence?
It is being sure of yourself and feeling good about how you look and feel. Hiring managers say it is actually confidence that can be most important thing about you.
According to experts, anyone can look confident to others if they:
have good eye contact

act upbeat

dress well

listen well

Yes. Through practice, encouragement, and supportive friends, family, and teachers. Remember that politeness and good manners count, and thank the interviewer at the very end of the session.
Building self-confidence tip: When you need to boost your self confidence or self esteem, find 3 things that make you feel good. These could be memories of go
od times, a piece of music, a holiday souvenir, the face of a friend – use photos if it helps. Practice thinking about them and bringing them to mind. This way, you can train yourself to feel good when you need to.