Learn More about Transition in Florida
Division of Vocational Rehabilitation
What It Does:
Helps people with disabilities find, keep, or return to employment.
Recent law emphasizes:
Youth services

Employer services

Coordinate state services

Efficiency performance measures
VR encourages schools to become a VR vendor to deliver Pre-Employment Transition Services.
What It Does: Helps individuals who are blind and visually-impaired achieve their goals and live their lives with as much independence and self-direction as possible.
What It Does: Administers programs for students with disabilities. Additionally, provides students with special needs services and opportunities for personal and professional growth through collaboration of families, professionals, and communities. BESE has discretionary projects throughout the state to support and build capacity in districts to support students with disabilities. Be sure to click on the Grants/Discretionary Projects link on their web site to learn more.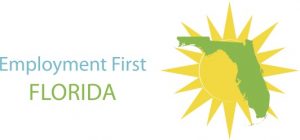 Not a single agency, but a connected effort of partners. 
Contributed to the Abilities Work website, which lists job openings for people with I/DD.
What It Does: Information and resources on national Employment First efforts. Provides information on this initiative in Florida.
What It Does: Works with local communities and private providers to support people who have developmental disabilities and their families in living, learning, and working in their communities. Serves  people with: 
Autism • Cerebral palsy • Spina bifida • Intellectual disabilities • Down syndrome • Prader-Willi syndrome • Phelan McDermid syndrome • Children age 3-5 who are at a high risk of a developmental disability
What It Does: Advocates and promotes programs, practices and innovative initiatives that enhance the independence, productivity, inclusion and self-determination of individuals with disabilities in all aspects of life.
What It Does: Advocates for people with intellectual disabilities, autism, spina bifida, cerebral palsy (CP), Prader-Willi syndrome and other developmental disabilities to be fully included in all aspects of their community.
What It Does: Statewide, professional association that provides advocacy, information, and networking for individuals with disabilities and the community agencies that serve them.
What It Does: Supports people with autism spectrum disorder (ASD) and related disabilities to reach their potential. Offers support and education for adults with ASD after transition.
What It Does: The statewide network of career centers that helps people with disabilities connect with workforce training and job opportunities.
What It Does: Administers state and federal programs and initiatives to help visitors, citizens, businesses, and communities achieve economic independence.
What It Does: Support efficient, cost-effective, and quality transportation services for transportation disadvantaged persons.
What It Does: Prevention, treatment, and recovery of children and adults with serious mental illnesses or substance abuse disorders in Florida.
What It Does: Support to students, families, and institutions of higher education so that students with intellectual disabilities have opportunities for on-campus college experiences that lead to careers
What It Does: Protects the civil rights of people with disabilities in Florida.
 All services are free and confidential.